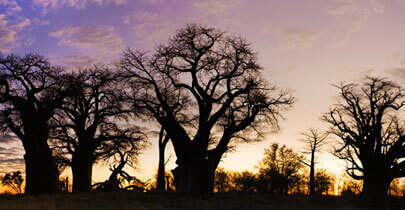 (Wilderness Site and Baobabs are National Monument)
They were named after the famous painter and explorer Thomas Baines in 1862.These group of Baobabs are known as the sleeping sisters. Baines Baobab overlooks Kaudia Camp Pan on the South side of the Nxai South camp. Although the pans at Baines Baobab are dry for most of the year, the area is transformed into a massive sheet of water during rainy season and the abundance water beds creating spectacles of great beauty. It can be reached by Nxai Pan Turn off.
Activities: game drives & maun transfers
Facilities: Shower & Pit latrine – no water. What you bring, you take out.
2023/2024 Rates:
International: BWP 561.00
SADC: BWP 336.60
Residents: BWP 193.80
Citizen: BWP 122.40
Rates Include 14% VAT and P10 per person per night Government Training Levy. kids 0-7 years free, 8 - 17 years are charged at 50% of relevant camping rates!
GPS Coordinates

Baines Baobab Site 1 - S20 07 13.30 E24 45 40.30
Baines Baobab Site 2 - S20 08 30.45 E24 46 08.89
Baines Baobab Site 3 - S20 08 54.30 E24 46 02.09