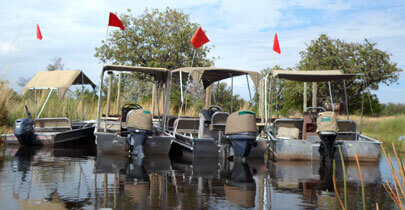 Gxhobega, Gcudikwa 1& 2
These islands are located in the area of Gcudikwa and Gxhobega lagoons offering camping facilities and guided game walks. Accessibility is only by boat transfers from Third Bridge boat station through the water ways with a visit to the heronries. Mokoro activities will also be offered. Gcudikwa lagoon is one of Okavango's most famous lagoons. This is a vast ox bow lagoon that is almost circular and has several large tree islands.
These islands are made up mainly of water fig trees and little papyrus growing in shallow water. Over the millennia these have accumulated a mass of bird guano and detritus under them to raise their levels and grow. Now they are large, but still isolated from any predators that are not aquatic. Hence they have become a vital breeding ground for the Okavango's waterbirds.Thousands of pairs of birds come to this heronry to breed, including herons, egrets, storks, ibises, cormorants and many others. Most of the nest-building activity starts around August, and breeding seems to be timed so that the chicks hatch around October and November, when water levels are low thus the birds find fish easiest to catch.
Activities: boat cruises, mokoro, walks
Facilities: No – what you bring, you take out.
Camping Grounds: 3 Islands
Rates 2023 / 2024:
International: BWP 1, 326.00
SADC: BWP 1,020.00
Residents: BWP 663.00
Citizen: BWP 510.00
Rates Include 14% VAT and P10 per person per night Government Training Levy. kids 0-7 years free, 8 - 17 years are charged at 50% of relevant camping rates! Please Note all Trailers will be charged P50 per day