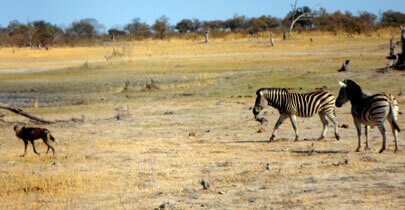 It covers 2500km2 and was proclaimed in 1970, later extended to its present size including Baines baobab. Nxai National Park is located on the Northern fringe of the Makgadikgadi basin and includes Nxai pan, an ancient lake bed that was once part of ancient Lake Makgadikgadi. Nxai Pan National Park Consists of series of fossils pans acacia tress on islands that form shady spots for the animals to rest during hot weather. South Camp Campsite is situated not far from the second entrance gate in a well shaded area.
Activities: no activities
Facilities: Newly built two ablution, two standpipes and Artificial Waterhole
Camping Grounds: 10 sites
Rates 2023 / 2024
International: BWP 428.40
Non Residents: BWP 285.60
Residents: BWP 147.90
Citizen: BWP 122.40
Rates Include 14% VAT and P10 per person per night Government Training Levy. kids 0-7 years free, 8 - 17 years are charged at 50% of relevant camping rates!